Portable Accessories for Low Pressure Gas Kits
NPSK ACCESSORY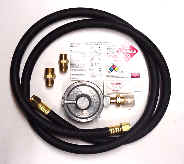 Natural to Propane Swap Kit .
For use with Type 3 , Type 4 and Type A and Type C Kits ONLY. Allows an engine used for natural gas or low pressure propane to be disconnected from the pipe system and connected to a propane cylinder.
The NPSK-6 can be used for up to the 30# grill size cylinder.
The NPSK-12 is for any propane tank or cylinder larger than that.

Includes: Left handed POL cylinder fitting works with new or old cylinders, HIGH Volume low pressure regulator for up to 20hp engine, pre-assembled 3/8" ID rubber hose with 3/8" male pipe thread ends.
Super Heavy Duty Reinforced Rubber Hoses

Working Pressure 350 psi.

Manufactured by Dayco

Male pipe thread ends

Pressure tested to 420 psi (Pressure test certification available upon request).
The 3/8" rubber hose can be used for final hook up on natural gas systems for engines up to 5h only and can be used on low pressure propane systems for engines up to 15hp only.
For correctly sizing a hook-up hose see the natural gas pipe size chart
NPSK-6 Portable Low Pressure Kit with 6' Hose $44.00
NPSK-12 Portable Low Pressure Kit with 12' Hose $49.00
ORDERING & QUESTIONS
Use your credit card and safely and securely order on-line. Or call our office toll free at :1-800-553-5608
Monday thru Friday
9:00 am - 4:30 pm
Eastern Time.
You can place your order over the phone if you feel more comfortable doing that or if you would like to speak with a company representative to answer any further questions you may have.
Please check our BASIC INFO page first. 1-800-553-5608