Type 1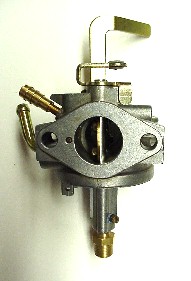 Type 1 kits are high pressure propane only kits. The original gasoline carburetor is converted to meter the propane to the engine. This is the most common method of conversion and it is the least expensive. To make the modification, simply remove the carburetor from the engine. Unscrew the float bowl and discard it along with the float, needle and high speed jet that runs up through the center of the carburetor (shown below). The passage that the high speed jet ran up through is then enlarged to accept the new propane or natural gas jet. One other passage is drilled larger and all other passages are sealed with the sealant provided. That is basically it. An example of the new tube can be seen in the picture above.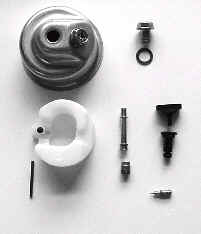 This type of conversion will produce FULL power because the carburetor is now delivering fuel at the exact location that was engineered for the delivery of gasoline to the engine air stream. Even though most people never go back to gasoline, if gasoline operation is ever wanted in the future, a new carburetor would have to be purchased.
ORDERING & QUESTIONS
Use your credit card and safely and securely order on-line. Or call our office toll free at :1-800-553-5608
Monday thru Friday
9:00 am - 4:30 pm
Eastern Time.
You can place your order over the phone if you feel more comfortable doing that or if you would like to speak with a company representative to answer any further questions you may have.
Please check our BASIC INFO page first. 1-800-553-5608