Quick"
Help Links
ALL ENGINES 12hp or smaller use
ALL ENGINES 13hp or Larger use
Dedicated High Pressure Propane
Bi-Fuel Propane and Gasoline
Type 3 Kits
Dedicated Natural Gas and Low Pressure Propane

Type 4 Kits
Tri-Fuel Natural Gas, Propane, and Gasoline
Remote Start
The parts needed to start a generator remotely by wire or even wireless
Don't know what kit is best for your application?
Check Out
or
View Cart
Shop with confidence!

and

Monday August 09, 2010
News & Features
Kit Production Update:
Production
is currently at:
1-3 days
As always, some kits take a little longer due to heavy order volume.
Kit Center Regular Hours of Operation:
Monday thru Friday
9:00 am - 4:30 pm
Eastern Time.
If you require assistance please fill out a request form using this link
or the email address found in your Master Conversion Instruction Booklet.
(end)
ORDERING & QUESTIONS
Use your credit card and safely and securely order on-line. Or call our office toll free at :
1-800-553-5608
Monday thru Friday 9-4:30 Eastern time. You can place your order over the phone if you feel more comfortable doing that or if you would like to speak with a company representative to answer any further questions you may have.
Please check our BASIC INFO page first.
1-800-553-5608
For our Canada customers call us here in the U.S. toll free at
1-800-486-0077.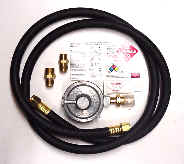 NPSK Accessory Kit
The NPSK Accessory Kit will allow a generator to be disconnected from the low pressure side of the home system and hooked up to a cylinder.
Propane cylinders can be used to operate a low pressure propane or natural gas generator portably. Two kits are available. They are both the same except for the length of the rubber hose. Choose from a six foot or twelve foot hose kit. Both of the NPSK Accessory Kits include:
| | |
| --- | --- |
| | Special High Volume-Low Pressure Regulator for up to 20hp engines |
| | Super Heavy Duty Reinforced Rubber Hose Manufactured by Dayco® |
| | Male pipe thread ends |
| | Left Handed Cylinder Fitting-Works with ALL Cylinders, New or Old Style including OPD |
| | Hose screws directly into the regulators 3/8" female outlet |
| | Bushing properly sized to match the Generator Regulator Inlet Fitting |
The hose in this kit cannot be used to make the final connection to the stationary Natural Gas system for engines over 5hp.
*** ORDER *** NPSK-6 Portable Low Pressure Kit with 6' Hose $44.00

*** ORDER *** NPSK-12 Portable Low Pressure Kit with 12' Hose $49.00
After adding the NPSK choose "Continue Shopping" to add additional ACCESSORIES.
To return to the Type A and C Kit Accessories Page click here